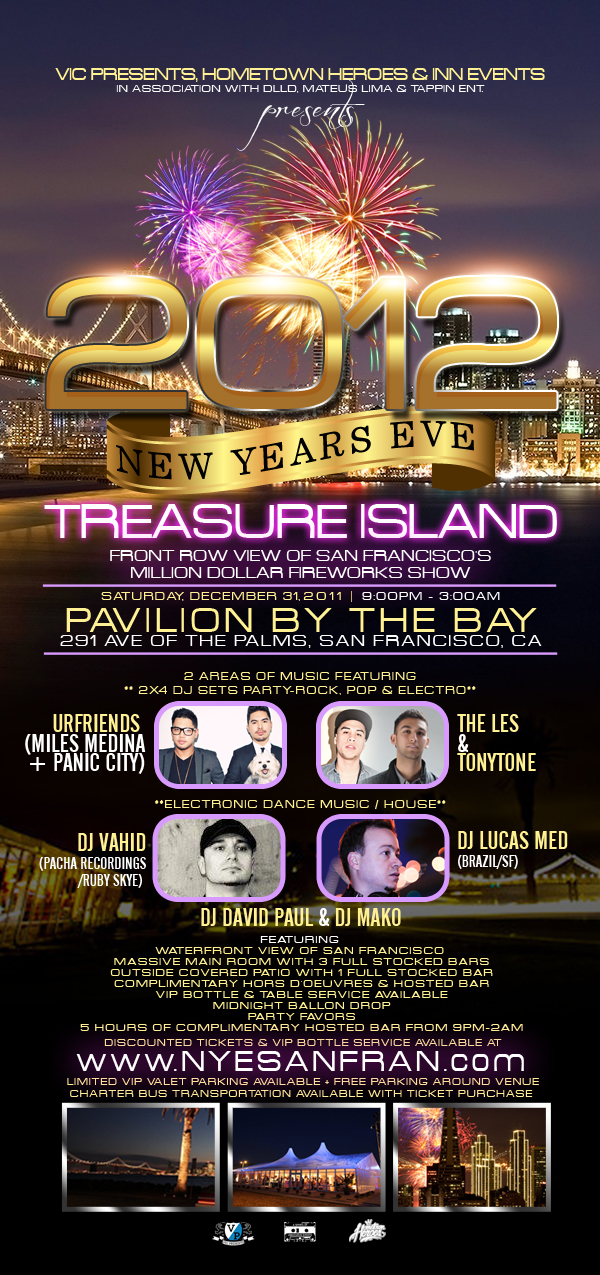 Ticket Information
| | | | | |
| --- | --- | --- | --- | --- |
| TICKET TYPE | SALES END | PRICE | FEE | QUANTITY |
| Friends & Family - Early Bird - General Admission - OPEN BAR   more info | Dec 31, 2011 | $75.00 | $5.12 | Sold Out |
| General Admission Pre-Sale - Tier 2 - OPEN BAR   more info | Dec 31, 2011 | $85.00 | $5.67 | |
| General Admission Pre-Sale - Tier 3 - OPEN BAR   more info | Not Started | $99.00 | $6.44 | N/A |
| VIP Bottle & Table Pkg #1 (Front Row View to Fireworks Show)   more info | Dec 31, 2011 | $475.00 | $24.20 | |
| VIP Bottle & Table Pkg #2 (Front Row View to Fireworks Show)   more info | Dec 31, 2011 | $799.00 | $33.92 | |
| VIP Bottle & Table Pkg #3 (Front Row View to Fireworks Show)   more info | Dec 31, 2011 | $1,175.00 | $45.20 | |
| VIP Bottle & Table Pkg #4 (Front Row View to Fireworks Show)   more info | Dec 31, 2011 | $1,399.00 | $51.92 | |
| SHUTTLE BUS Transportation (NOT General Admission Ticket)   more info | Dec 31, 2011 | $10.00 | $1.54 | |
SATURDAY, DECEMBER 31, 2011 | 9:00PM - 3:00AM
VIC PRESENTS, HOMETOWN HEROES and INN EVENTS
in association with DLLD, MIKE JONES, MATEUS LIMA present
2012 NEW YEARS EVE on Treasure Island, San Francisco
"FRONT ROW VIEW TO SAN FRANCISCO FIREWORKS SHOW"
You are cordially invited to celebrate New Years Eve at historic Treasure Island, with an exclusive view of San Francisco's million dollar FIREWORK'S SHOW.  Transforming The Pavilion by the Bay into this years most exclusive New Years Eve celebration with TWO Areas of music and complimentary hosted bar all night.
2 AREAS OF MUSIC FEATURING
2X4 TAG TEAM DJ SETS (HIP-HOP, TOP-40 POP & PARTY ROCK)
URFRIENDS aka MILES MEDINA & PANIC CITY
Electronic Dance Music - House Music
DJ VAHID (Pacha Recordings/RubySkye/1015)
DJ LUCAS MED (Brazil/SF)
DJ DAVID PAUL (SF)
DJ MAKO (Blowfish SJ)
An exclusive TICKET ONLY EVENT;  All guests must purchase pre-sale tickets before arriving to event, on Saturday December 31, 2011. All tickets include access to both areas of music, complimentary hosted bar all night (9:00pm-2:00am) and complimentary passed appetizers & desserts.

Ticket's will be sold on a TIER SYSTEM, meaning as the event gets closer tickets will increase in price.  Do not wait and pay the highest, take advantage of the discounted tickets.
VIP Bottle & Table Reservation options/prices: Available above.
Two types of seating; Front row window view + back section
Each reservation will include the following:
- Liquor Bottle Of Choice, 3 Mixers of choice, 1 Bottle of Champagne, Express Entry, Hors d'oeuvres & Dessert plater
** +20% Gratuity & Admission Tickets NOT INCLUDED
Frequently Asked Questions:

Q: What does COMPLIMENTARY HOSTED BAR include?
A: Complimentary hosted bar means all your drinks included which includes hard liqour, beer, wine and champagne from 9:00pm-2:00am. Please drink responsibly and do not be the person escorted out of the party because you have had way too many drinks.

Q: IS THERE A DRESS CODE?
A: We encourage all our guest to dress up, this is the biggest party of the year.  Dress to impress and highly encourage for gentleman; Button-up, slacks, suit jackets, tie's, jeans ok, dress shoes.  Ladies; Formal & Casual dresses, stilletos, skirts.  None of that is mandetory, but dress formal.

Q: IS THIS AN INDOOR OR OUTDOOR EVENT? 
A: This party will be held both indoors and outdoors with covered section.  Our music area will be outside with full covered canopy, fully stocked bar and lounge area for our guests to enjoy.

Q: WHAT DOES VIP BOTTLE & TABLE SERVICE INCLUDE? 
A: If you do not want to stand around and want to spend a little extra on a place of your own, this is for you.  Each package comes with specific bottle lists, any additional bottles can be purchased at a discounted rate. Your choice of liquor as long as is in the list of bottles. Plus seating in couches and chairs, plus complimentary Hors d'oeuvres and Dessert plate.  Express Entry for you and your entire group and complimentary champagne.

Q: WILL TICKET PRICES RAISE IN PRICE? 
A: Yes. We recomment that you purchase your tickets as soon as possible. Tickets will be in a tiered system, meaning as the event date get's closer the ticket price goes up. Limited space is available and only pre-sale tickets get you inside the event.

Q: CAN YOU SEE THE FIREWORK SHOW?
A: YES!!!  We have the best view of the firework show, directly infront of the launch and expect to have the best view San Francisco has to offer.

Q: ARE TICKETS REFUNDABLE?
A: NO REFUNDS. All sales are final. 

Q: WHAT TIME DOES PARTY START?
A: 9:00pm.  We will begin to check pre-sales as early as 8:30pm, if you would like to arrive early and take advantage of parking, please come on early. We encourage everyone to arrive early and enjoy full 5 hours of hosted bar and to not miss the best firework show in the west coast.