THE BUMP PARTY
Tickets available at http://www.BumpPartyTickets.com

Photos of BUMP IV - Click Here
Photos of BUMP III - Click Here

With a combined attendance of 5500+ in the summer of 2011, we're proud to bring it back! BUMP has evolved over the last couple of years to become one of Northern California's favorite summertime events!!
BUMP V will start at 12:00pm (noon) 6/23 and goes until 2:00 am. This is an all ages event, however, due to local curfew laws, the event will be 18+ after 10pm
10 Amazing DJ's 75+ Boats Over 125,000 Watts of Power (Sounds by Sound Extreme Pro)

With a newly designed stage and sound system, we've brought together some of the areas most amazing DJ's combined with attractive, upscale crowds coming from all over California, and the ability to "TUNE IN" to the party on your boat, BUMP V will be the only way to party this summer!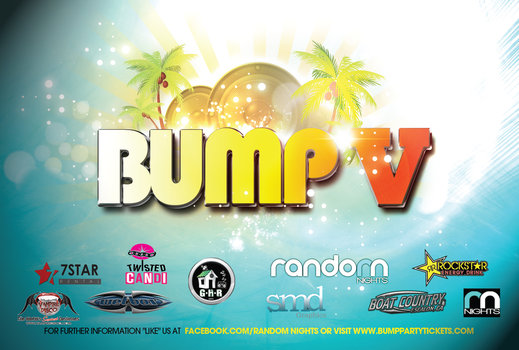 DJ Thrawn -http://www.facebook.com/DJThrawnSF
DJ Topek - http://www.facebook.com/djtopekone

Chris Love - http://www.facebook.com/djchrisloveless
Brian Williams - http://www.facebook.com/djbrianwilliams

Gerry Roberts - www.djgerryroberts.com
DJ Scottie - www.facebook.com/djscottie

Daniel Mendez - www.reverbnation.com/danielmendez

Nick G - www.GhettoHouseRadio.com
Eddy Santana - www.GhettoHouseRadio.com
DJ Zya - http://www.facebook.com/Djzya

BUMP Guidlines
These guidlines are for the safety and security of all attendees of BUMP, they're not there to babysit you, they're not personal, they're there to ensure that everyone in attendance enjoys the party to the fullest extent! Ok, they protect us to for liability, but hell, you're a grown ass person, please just use good judgement!!

NO Moshing, Crowd Surfing or Stage Diving
NO Unauthorized/Unlicensed Vendors Allowed
NO Unauthorized Solicitations, Handbills, Sampling, Give-Aways, etc.
NO Glass, Cans, Cups or Coolers
NO Drugs or Drug Paraphernalia
NO Outside Food or Beverages
NO Weapons of any Kind (Includes Pocket Knives, Pepper Spray, Fireworks, etc.)
NO Professional Recording Equipment Photo, Video, or Audio (No Detachable Lenses, Tripods, Big Zooms or Commercial Use Rigs)
NO Stickers, Flyers, Banners or Posters
This is a RAIN OR SHINE EVENT. (we're sure it's gonna be da
mn hot!!!)
***ROOMS ARE BOOKED SOLEY THROUGH LAKE TULLOCH RESORT AND PRICING IS SET AT THE RESORTS DISCRETION & DOES NOT INCLUDE ADMISSION TO THE EVENT, TICKETS WILL BE NEEDED TO ATTEND***
For information contact 209.785.8200
Current Bump V Sponsors

RockStar Energy Drinks - http://www.RockStar69.com/

Vampire Disco - http://www.VampireDisco.com/

Twisted Candi Bikini - http://www.TwistedCandi.com/

7 Star Rental - http://www.7star-rental.com/

Boat Country - http://www.BoatCountryUsa.com/

Wetbox Marine - http://stores.ebay.com/WetBox-Marine

Ghetto House Radio - http://www.GhettoHouseRadio.com/

SMD Graphics - www.facebook.com/smdgraphics
Ticket Stop Location
$20 Tickets w/o a service charge
BUMP V Sound / Stage / Lighting provided by: